Farm/ Cattle/ Horse Livestock Scales




A&D Scales



Transcell Technology
Scales / load cells


Label Printing Scales
from $995
Products
WWP wheel load scale
(Perfect for Environmental & Demolition waste removal applications)
used by Fire Departments, EMS and Vehicle Mfrs.

Available in two styles
Click here to see all our truck scales
| | |
| --- | --- |
| | |
| Weigh Pads with external display | Weigh Pads with built-in display |
| | |
| Close up AX-5 indicator in a portable case | Close up of built-in display |

WWP-20K wheel load scale
portable scale system that is ideal for determining center of gravity, validating design weights, measuring down force, and certifying equipment, trailers, tractor trailers, coaches, and other large wheeled vehicles.
| | |
| --- | --- |
| | 20,000 lb capacity x 10 lb sensitivity per scale |
| | Comes with AX-5 external indicator in portable case or a Built-in display. |
| | Weighs only 35 lbs, allows single person setup and operation. |
| | Low height means low ramp angle and a high degree of accuracy. |
| | Non-skid pattern ensures maximum grip in wet or snowy conditions. |
| | Weighs in Lbs & Kgs. |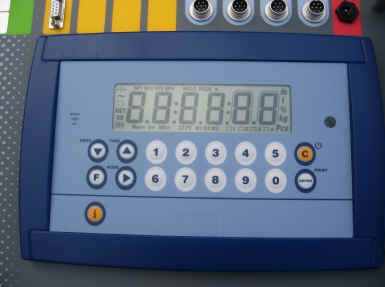 Model AX-5 weight indicator in portable case
with built-in printer
All the scale pads connect to one display. Displays in Lbs & Kgs, RS232 printer/computer output
Internal rechargeable battery (12 hour continuous use battery life, 8 hour recharge).
In WHEEL WEIGHING mode with the total function it is possible to print/display:
The weight of the single platforms, sum of any of their combinations, total weight of all the platforms
The number of weighments performed, the accumulated weight and the sum of the subtotals carried out.
Prints the center of gravity coordinates.
Model
Capacity
Prices
WP-20K
(one 20,000lb scale)
20,000lb capacity x 10 lb increments
$995

WP-40K
(set of two 20,000lb scales)
40,000 lb x 10 lb increments
20,000lb capacity per scale
$1990

WP-80K
(set of four 20,000lb scales)
80,000 lb x 10 lb increments
20,000lb capacity per scale
$3995

WP-120K
(set of six 20,000 lb scales)
120,000 lb x 10 lb increments
20,000lb capacity per scale
$6995

The WP-20K scales are also sold individually.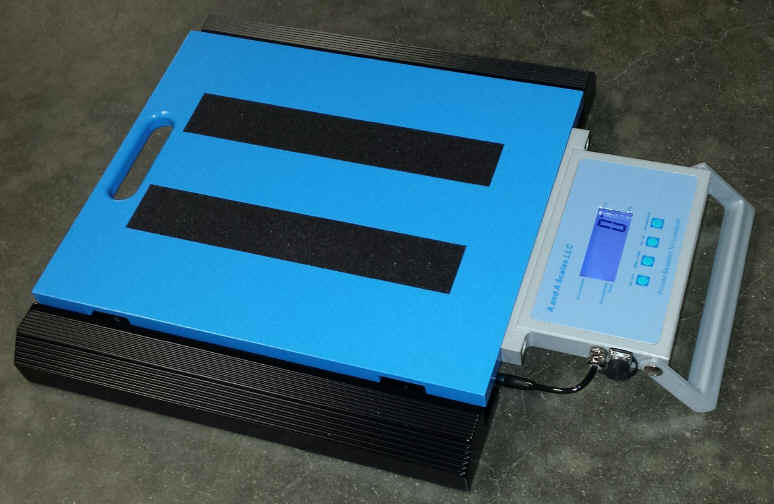 Click here to see all our truck scales
Revere
Transducer
Load cells

BLH
load cells



Wheelchair Scales

Click below to Translate our website into Spanish, Chinese, French, German, Italian, Japanese, Korean or Portuguese.