Farm/ Cattle/ Horse Livestock Scales




A&D Scales



Transcell Technology
Scales / load cells


Label Printing Scales
from $995
Products

VS-3000 digital platform scale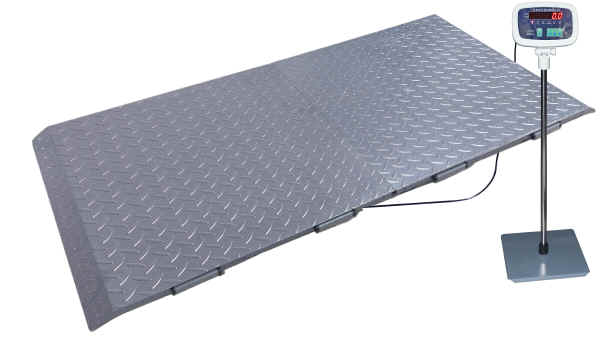 VS-3000 with optional stand for the display
Model VS-3000
3000 lb capacity with 1 lb sensitivity
82" long x 39 1/2" wide
Price: $899 free shipping


Click here to see all our Livestock Scales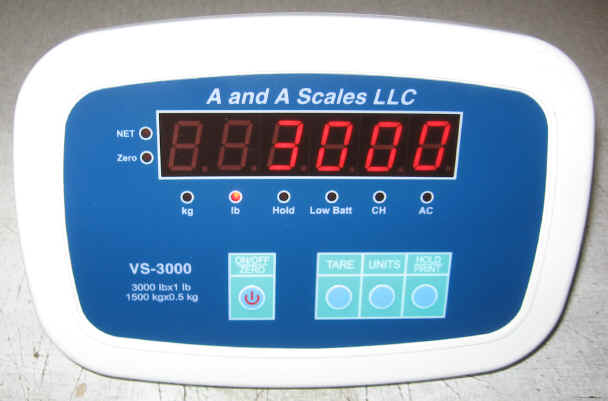 Close up of VS-3000 weight indicator
Features:
Accurate electronic weighing of larger animals. removes the guesswork for administration of feed and medicine.
Full size platform for ease of use. The scale is large enough to avoid making animals skittish while weighing.
Low profile to avoid high "step up", only 2.5" high
Two piece design

separates for greater portability. Bracket keeps the two platforms from separating. Each section has two handles that retract
Hold function for single user weighing. The exclusive lock-on feature locks onto the animal's weight, eliminating the problem of animal movement during the weighing process.
Battery & AC operation for remote locations. Full function with no AC power attached.
Detachable indicator for battery charging.
Durable design for rigorous applications. This scale will provide years of use in even challenging environments.
* 3000 lb x 1 lb / 1500 kg x 0.5 kg
* Overall Size: 82" x 39 1/2"

* Two piece design: Each section weighs 105 lbs. Total: 210 lbs
* Painted diamond plate steel platform with two built-in ramps
* Battery & Electric powered (built-in rechargeable & AC adapter)
* Adjustable feet to compensate for uneven surfaces
* Optional indicator stand
Model
Capacity
Price
VS-3000
82" x 39 1/2"
3,000 lb x 1lb
$899 free shipping
VS-2200
59" x 30"
2200 lb x 1 lb
$599
free shipping
click here for VS-2200
Options

Stand for the display

$95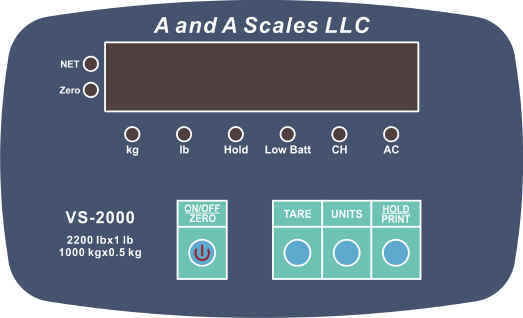 The VS-2000, VS-2200 and VS-3000 use the same display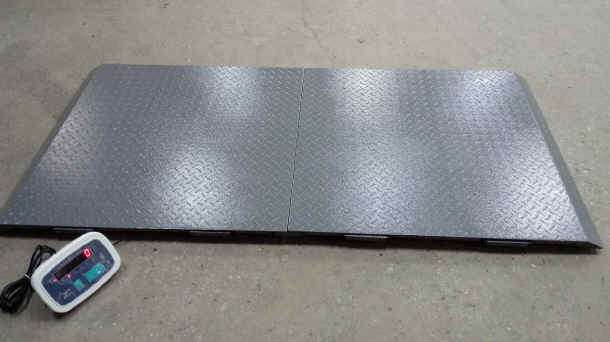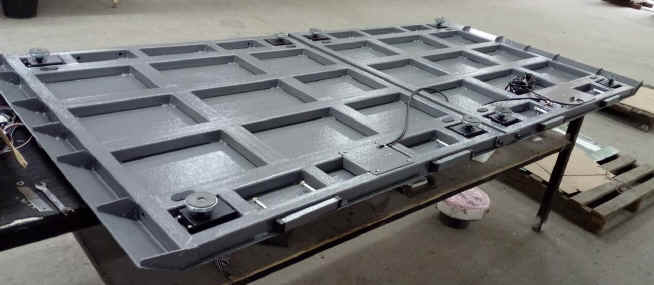 Underside View showing heavy duty tube steel construction
Two piece design makes it easier to move
Revere
Transducer
Load cells

BLH
load cells

Click below to Translate our website into Spanish, Chinese, French, German, Italian, Japanese, Korean or Portuguese.